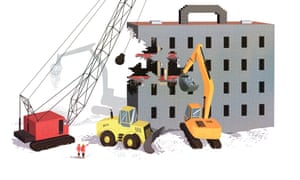 There are 13,000 business schools on Earth. That's 13,000 too many. And I should know – I've taught in them for 20 years. By Martin Parker
Visit the average university campus and it is likely that the newest and most ostentatious building will be occupied by the business school. The business school has the best building because it makes the biggest profits (or, euphemistically, "contribution" or "surplus") – as you might expect, from a form of knowledge that teaches people how to make profits.
Business schools have huge influence, yet they are also widely regarded to be intellectually fraudulent places, fostering a culture of short-termism and greed. (There is a whole genre of jokes about what MBA – Master of Business Administration – really stands for: "Mediocre But Arrogant", "Management by Accident", "More Bad Advice", "Master Bullshit Artist" and so on.) Critics of business schools come in many shapes and sizes: employers complain that graduates lack practical skills, conservative voices scorn the arriviste MBA, Europeans moan about Americanisation, radicals wail about the concentration of power in the hands of the running dogs of capital. Since 2008, many commentators have also suggested that business schools were complicit in producing the crash.
Having taught in business schools for 20 years, I have come to believe that the best solution to these problems is to shut down business schools altogether. This is not a typical view among my colleagues. Even so, it is remarkable just how much criticism of business schools over the past decade has come from inside the schools themselves. Many business school professors, particularly in north America, have argued that their institutions have gone horribly astray. B-schools have been corrupted, they say, by deans following the money, teachers giving the punters what they want, researchers pumping out paint-by-numbers papers for journals that no one reads and students expecting a qualification in return for their cash (or, more likely, their parents' cash). At the end of it all, most business-school graduates won't become high-level managers anyway, just precarious cubicle drones in anonymous office blocks.
These are not complaints from professors of sociology, state policymakers or even outraged anti-capitalist activists. These are views in books written by insiders, by employees of business schools who themselves feel some sense of disquiet or even disgust at what they are getting up to. Of course, these dissenting views are still those of a minority. Most work within business schools is blithely unconcerned with any expression of doubt, participants being too busy oiling the wheels to worry about where the engine is going. Still, this internal criticism is loud and significant.
To read the rest of this article, please visit: Why we should bulldoze the business school